When it comes to having a healthy and lushes lawn, lawn care, and pest management go hand in hand. In our many years of experience, you can rarely have one without the other. 
That's why Elite Home Pest is pleased to offer professional and high-quality lawn care services for any type of home or landscape.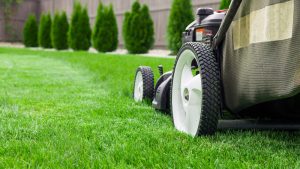 Lawn Care is Pest Control
Throughout the year, insects will seek out shelter to survive the cold of winter or the heat of summer, and will usually find it by hiding in your lawn and landscaping. If your lawn is left untreated, they will most certainly propagate. 
That's why we believe that lawn care isn't just lawn care. By taking care of your lawn, you are taking care of a big pest problem. 
Nobody wants to be stuck in a cycle of unrelenting pests and out of control weeds. With lawn care, you aren't just getting a lawn that looks beautiful, you are getting a lawn that has been properly treated to keep pests at bay all year-round.
Lawn Care Services
Elite Home Pest is pleased to offer lawn care services that include: 
Weed Control — Weeds aren't just ugly, they can steal essential nutrients from your lawn. Our team can provide a pre-emergent treatment that attacks any grassy weeds or crabgrass before they even start to sprout. We also provide contact treatments when germination periods are peaking to keep broadleaf weeds under control. 
If you are struggling with controlling the weeds around your home, Elite Home Pest is ready to provide you with a solution. 
Fertilization — While a well-fertilized lawn certainly looks beautiful, that's not the only reason that it's helpful. A fertilized lawn can help prevent damage from drought, disease and weed infestations. 
It is also able to make the root system of your grass stronger, which allows it to soak up water much faster when it rains heavily. The result of this is much less muddy spots and flooding in your yard. 
Mowing — A green and lush lawn is a very natural way to add a welcoming atmosphere and more beauty to your property. However, it's not the easiest thing in the world to keep maintained, healthy, manicured, vibrant and uniform. 
On top of keeping it properly watered, giving it the nutrients it needs, and keeps pests away, trimming your lawn regularly is an essential part of the process for keeping it from getting unkempt and overgrown. 
Elite Home Pest can offer premium mowing services for your lawn so that you never have to worry about it. Let us do all of the work so that you can sit back and enjoy the view. 
Aeration — Just like shrubs and trees need to be maintained on your property, the soil also needs to be taken care of so that proper nutrients can get to your grass. 
When you first purchase a property, the soil might be packed down by previous sod installers or home builders, and the last homeowners may not have aerated the soil regularly. Additionally, over time and years of having a family live on the property, the soil will naturally get compacted. 
The result is that you have poor growth and a lawn that is patchy because the roots of your grass are stifled. Our team here at Elite Home Pest will be able to diagnose the way the soil is compacted, aerate the ground by pulling out plugs so that there are gaps in the soil. 
These gaps will eventually fill back in, and your lawn is on its way back to being lushes, healthy and getting all of the nutrients that it needs. 
Elite Home Lawn Care
If you are looking for a more beautiful and well-kept lawn, want to get rid of the pests that are hiding there, or just want to get your Saturday back, Elite Home Pest is ready to help. Contact us today!