Lawn Care & Landscaping
Whether you are thinking about selling your home, or you just think your front yard needs a facelift, choosing lawn care, and landscaping will reveal the natural beauty that has been buried underneath years of weeds and overgrowth.
If it is your first time considering lawn care or landscaping, we know that there are a lot of questions that come up. We want to help answer a couple of those, and shed more light on how you are moving in the right direction.
What Are The Benefits Of Lawncare?
So what are the advantages of having your lawn taken care of? Some of the main benefits are:
Better Curb Appeal
You might not know it, but the state of your lawn can have a huge impact on the curb appeal of your home. A lawn that is well maintained will actually increase the overall value of your home while revealing natural character and beauty for your whole neighborhood to enjoy.
If lawn maintenance is overlooked and you have weeds, trees or shrubs that are out of control, it can reduce the value of your property and severely damage any curb appeal that your home could have. You and your home deserve better.
A Healthier Lawn
Standard lawn maintenance is pretty basic with services like watering and mowing, but having a lawn that is healthy and thriving requires your yard to be handled with a lot more care.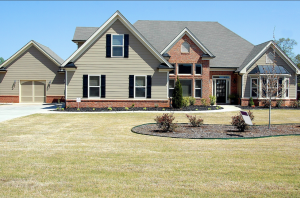 A healthy lawn requires special attention to small details, and regular care so that potential problem areas like brown spots are able to be pinpointed and addressed. This kind of lawn care means that climate and lighting conditions are correct, soil types are added properly, plant growth patterns are regular, proper mowing techniques are used, and the right products are being utilized.
All of these things add up to ensure that your yard is as healthy as it can be all year round.
Consistent Maintainance
When you decide to pursue landscaping or lawn services, you are deciding to have your greenery taken care of all the time. This means that you don't have to go one moment worried that your yard isn't getting the proper treatment that it deserves.
Lawn maintenance services allow you to sit back, relax and not get your hands dirty unnecessarily. Forgetting to water your plants will be a thing of the past! Consistent lawn care is worth the peace of mind.
Should I Hire A Professional?
While there is an amount of lawn care that you could achieve on your own, there is just nothing else that compares to hiring a team with knowledge, expertise and years of experience.
When you hire a professional company for your lawn maintenance, it means that you are hiring on excellence. Excellence in the planting, in mulching, in fertilization, pesticides, and all the other complex processes and services that come along with landscaping.
Don't waste another moment wondering what your yard would look like with regular lawn care. Contact us today to find out more!